The following are scheduled programs that our team offers to our district communities.
For more information please call the NDFHT or check our Community Calendar.
🚨**New updated Urgent Care hours**🚨
Monday, Tuesday, Thursday's - Appointments to be booked same day, starting at 9:00 am, by calling 807-887-5252 ext. 2.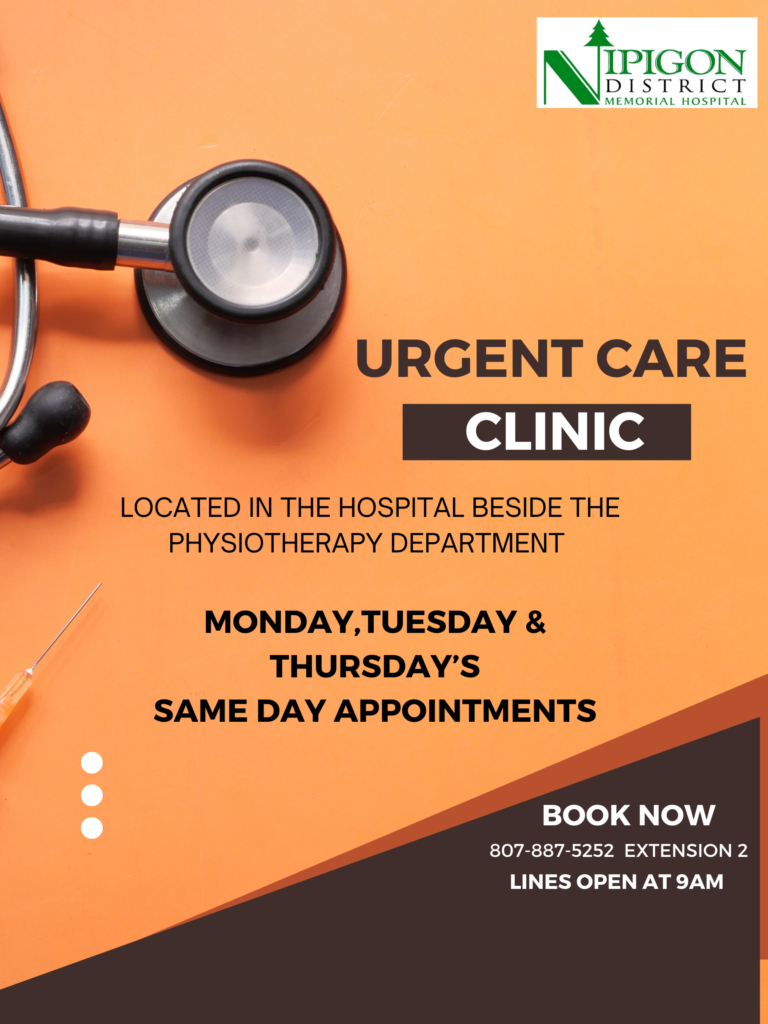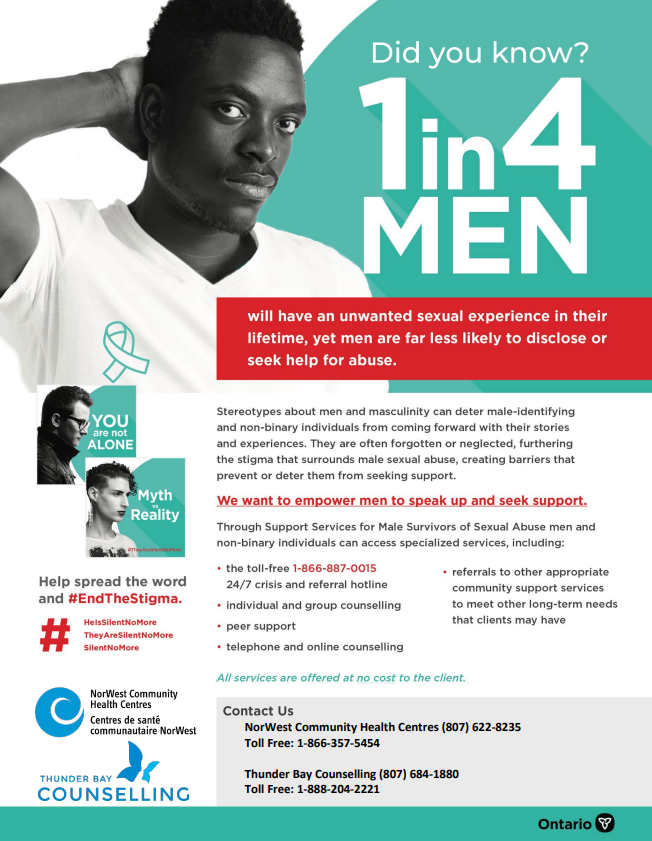 Help spread the word, and #endthestigma!
Specialized services through "Support Services for Male Survivors of Sexual Abuse" are available through NorWest Community Health Centres and Thunder Bay Counselling. Virtual services are available to support individuals across North Western Ontario as well!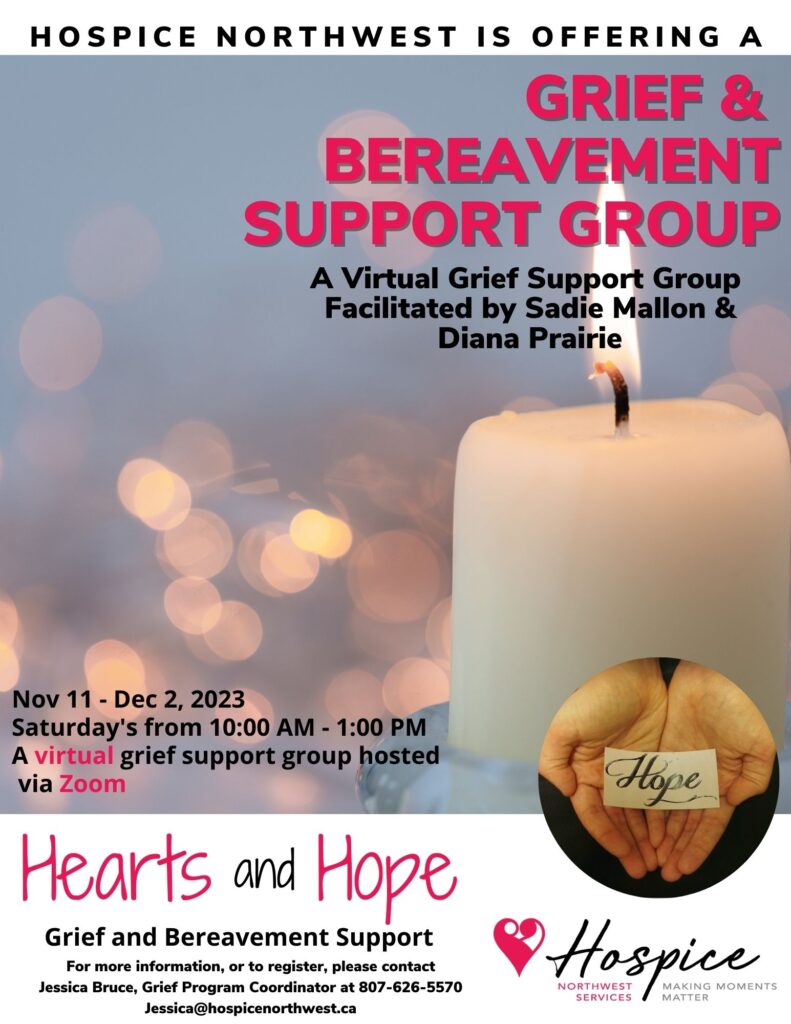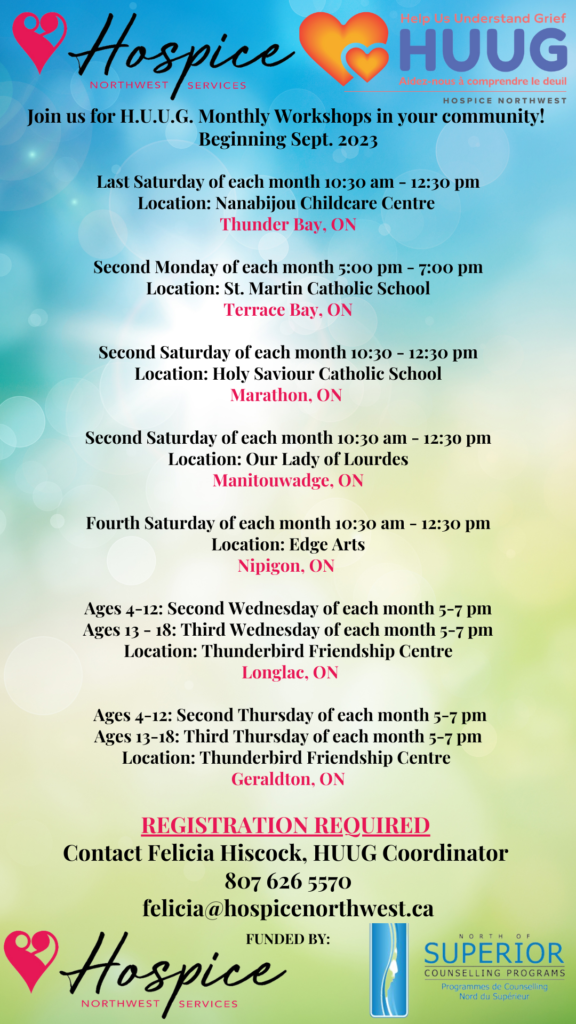 Hospice Northwest Services now has Children and Teen monthly Grief Workshops running in Longlac, Geraldton, Manitouwadge, Marathon, Terrace Bay and Nipigon; as well as in Thunder Bay!
These workshops are facilitated by local professionals that have been trained in the HUUG (Help Us Understand Grief) program, and they offer opportunities for children and teens to normalize their grief in a safe and supportive setting.
They will also be offering a 6 week adult grief support workshop that is virtual and accessible to everyone in the region!

We visit various community locations to provide blood pressure monitoring, diabetes screening and education services. See our program calendar for times and locations.
We offer foot care to individuals with diabetes and complex conditions. See your health care provider for a referral.
We offer mental health and addiction counselling.
We offer monitoring through physician referral for cardiac monitoring.
We provide monthly screening clinics with our NP and nursing.
Adult and child immunizations and injections are available.
Coordinated services that assist people to safely remain in their home.
Provides education and support to clients/patients with diabetes and prevention information.
We offer assistance for patients/clients with forms and general navigation of the healthcare and government systems.
Provides monthly monitoring & education to patients regarding management of high blood pressure with nursing and registered dietitian.
We provide various programs throughout the year in collaboration with other community partners. See our program calendar for times and locations.
Self-Esteem Program – School based workshops that focus on building classroom resiliency, self esteem, conflict resolution.
Community Walking Program – Stay active with access to a safe place to walk and socialize during the winter months. Everyone welcome.
Active Living – Stay active in a fun, interactive environment. Everyone welcome.
Seasonal Mental Health - A series of workshops focused on embracing the seasons and helping participants increase overall health and wellness. Registration is required.
Best Start Programming - A series of workshops focused on optimal mental health and nutrition for mothers, infants and children.
Interactive Nutrition Program - Interactive workshops to help you build your confidence and knowledge around cooking healthy, nutritious meals.
We provide support to assist people who are ready to quit smoking. Nicotine replacement therapy is available.
Medication and therapeutic treatment approach for opiate addiction. By health care provider or self referral.