Feeling unwell? Did you test positive for Covid-19? Don't know what the current protocols are?
Click the link below for Ontario Health's guidelines on what you should do if you are unwell.
First dose
Vaccines available to children (ages 5 to 11):
-Paediatric Pfizer COVID-19covid 19 vaccine
Vaccines available to youth (ages 12 to 17):
-Pfizer recommended for ages 12 to 17 to minimize myocarditis risk
-Moderna, with informed consent
Vaccines available to adults:
-Pfizer: recommended for ages 12 to 29 to minimize myocarditis risk
-Moderna
Upon request, or if you have an allergy to mRNA vaccines (like Pfizer or Moderna), you can get:
Johnson & Johnson (Janssen); you must have informed consent and request this vaccine through your public health unit (only one dose needed, with a booster shot recommended after three months or 84 days)
Speak with your health care provider if you have received a hematopoietic stem cell transplant, hematopoietic cell transplant (autologous or allogeneic) or have had CAR-T cell therapy following COVID-19 vaccination, as you may be recommended to be re-vaccinated due to loss of immunity following therapy or transplant.
Second dose
Vaccines can be safely mixed for a first and second dose.
Your appointment for your second dose should be:
-8 weeks after your first dose of AstraZeneca
-at least 8 weeks after your first dose of Moderna or Pfizer
Both vaccine options for your second dose:
-are safe
-provide strong protection against severe illness from COVID-19 and variants, including Omicron
-will count as a completed series (you will be fully vaccinated)
It is strongly recommended that you wait 8 weeks after your first dose of the COVID-19 vaccine before getting your second dose.
For children aged five to 11 and youth aged 12 to 17, the National Advisory Committee on Immunization (NACI) recommends waiting eight weeks between the first and second dose. This is based on evidence in adults that suggest longer intervals between doses results in a stronger immune response and higher vaccine effectiveness that is expected to last longer. This interval may be associated with a lower risk of myocarditis and/or pericarditis.
Three-dose primary series for individuals who are immunocompromised
Some individuals who are immunocompromised can get a third dose of the COVID-19 vaccine eight weeks after their second dose as part of an extended primary series.
Contact your health care provider to see if you are eligible.
You might be eligible if you are:
-a transplant recipient (including solid organ transplant and hematopoietic stem cell transplants)
-receiving stable, active treatment (chemotherapy, targeted therapies, immunotherapy) for a malignant hematologic disorder or solid tumor
-in receipt of chimeric antigen receptor (CAR)-T-cell
-an individual with moderate or severe primary immunodeficiency (for example, DiGeorge syndrome, Wiskott-Aldrich syndrome)
-Stage 3 or advanced untreated HIV infection and those with acquired immunodeficiency syndrome
-undergoing active treatment with the following categories of immunosuppressive therapies: anti-B cell therapies (monoclonal antibodies targeting CD19, CD20 and CD22), high-dose systemic corticosteroids, alkylating agents, antimetabolites, or tumor-necrosis factor (TNF) inhibitors and other biologic agents that are significantly immunosuppressive or are taking specific immunosuppressant medications (PDF)
-receiving dialysis (hemodialysis or peritoneal dialysis)
Booster doses
To protect Ontario's progress in the fight against COVID-19 and safeguard the province's hospitals and intensive care units in the face of the rapidly-spreading Omicron variant, the Ontario government is rapidly accelerating its booster dose rollout. A third dose of the COVID-19 vaccine offers additional protection against the Omicron variant. Please get your booster as soon as you can.
Individuals aged 18 and over can schedule their booster dose appointment at an interval of three months (84 days) after their second dose.
Individuals aged 50 and over, as well as all who have already booked their appointment at an interval of six months (168 days), can re-book for an earlier date at the three-month interval through Ontario's booking portal or by calling the Provincial Vaccine Contact Centre.

Fourth Doses for Specific Populations
Residents of long-term care homes and retirement homes, and older adults living inother congregate settings are at increased risk for both COVID-19 infection and severe disease, such as hospitalization and death. Many of these individuals are now up to five months from their third dose and are likely becoming increasingly
susceptible to COVID-19 infection due to waning immunity. A fourth dose of an mRNA vaccine is recommended for residents of long-term care homes (LTCH), retirement homes (RH), Elder Care Lodges and older adults living in other congregate settings providing assisted-living and health services* who received their third dose at least three months (84 days) prior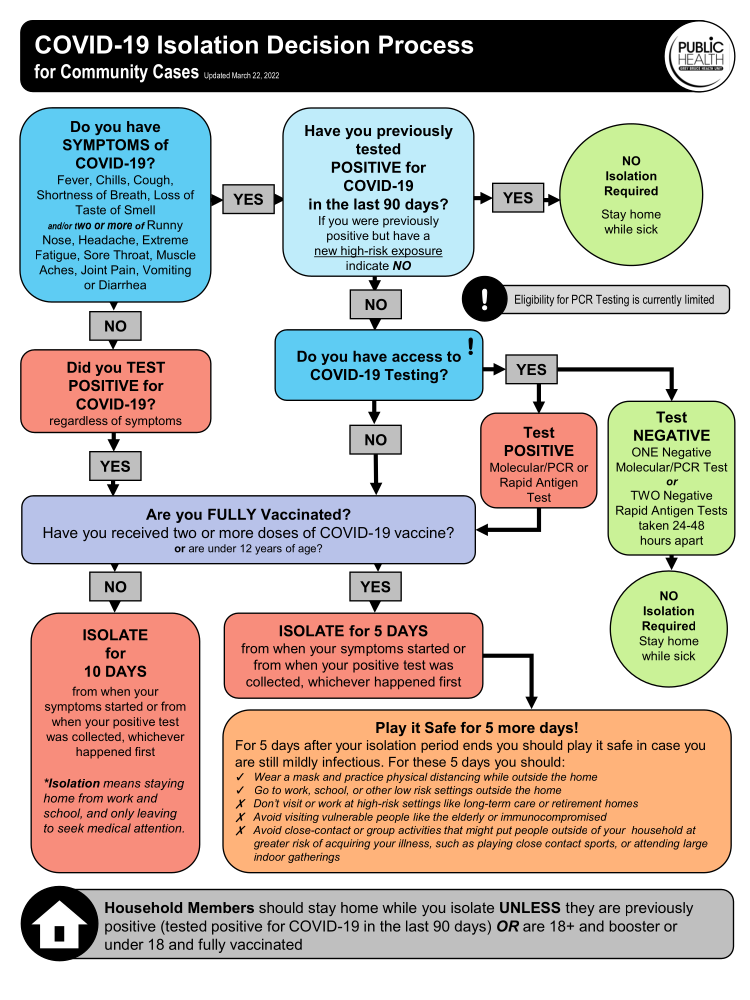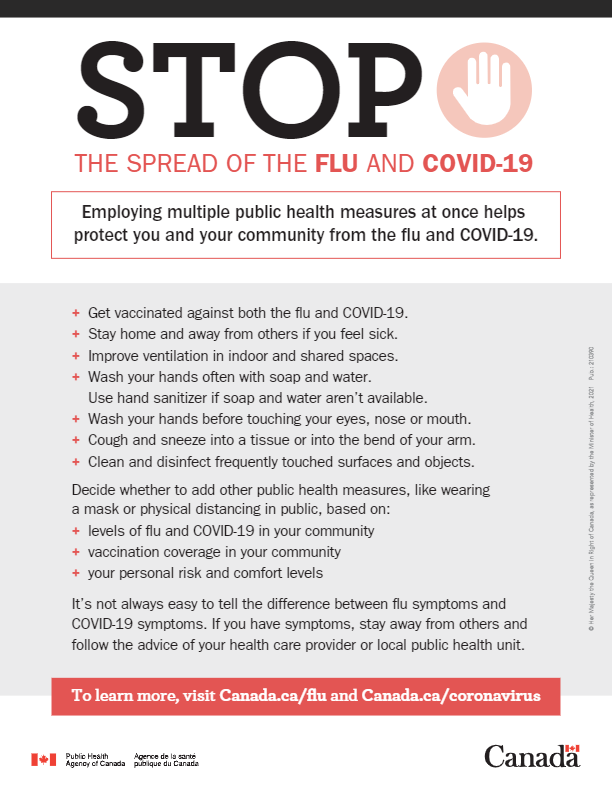 What do I do if I Develop Symptoms?
Complete the Self-Assessment at https://covid-19.ontario.ca/self-assessment/
If you have symptoms of COVID-19, you must isolate for five days if you are:
-fully vaccinated and otherwise healthy
-under 12 years of age
You can end isolation after five days only if your symptoms have improved for at least 24 hours, and all public health and safety measures, such as masking and physical distancing, are followed. If your symptoms are not in this list, stay home until you feel better for at least 24 hours (or 48 hours if the symptoms affect the digestive system).
If you are not fully vaccinated or are immunocompromised, you must isolate for 10 days.
If you have symptoms of COVID-19 or have tested positive for COVID-19, you should also tell your close contacts that they have been exposed. Informing your contact will help stop the spread of the virus.
High risk settings
If you work or live in a high risk-health care setting, including hospitals, long-term care, retirement homes, congregate living settings, you must:
-notify your employer
-isolate for 10 days from your exposure or symptom onset, or from your date of diagnosis.
To ensure sufficient staffing levels, workers in these settings will have the opportunity to return to work earlier than 10 days, with additional precautions such as testing. Speak with your employer for more infotmation.

Contact your local health provider for advice and direction.

If you live with someone who has symptoms or has tested positive for COVID-19
You do not need to isolate if one of the following applies to you:
- you have previously tested positive in the last 90 days and do not have symptoms
- you are under 18 years old and are fully vaccinated and do not have symptoms
- you are over 18 years old and have received a COVID-19 booster dose and do not have symptoms
Instead for 10 days after exposure:
- self-monitor for symptoms
- wear a mask and avoid activities where mask removal would be necessary
- do not visit anyone who is at higher risk of illness, such as seniors, or any highest risk settings (unless you previously tested positive in the past 90 days)
If you do not meet any of the criteria above, you must isolate while the person with symptoms/positive test result isolates (or for 10 days if you are immunocompromised)